River diagram game quiz online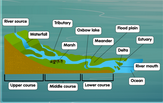 A river is formed when water from an uphill source – such as a lake, rainwater, melting snow from the mountains, or even an iceberg – flows downhill into the ocean.
Water from the source goes for quite a journey before it drains into the sea at the mouth of the river. Steep cliffs and slopes in the mountains can become waterfalls as the water moves vertically downhill.
In the transition zone, the main river may be joined by smaller rivers or streams called tributaries. A river can be connected to several tributaries before reaching the ocean. Its shape may also wind and twist like a snake, forming natural curves in the river path called meanders or bends. The floodplain area of a river is typically the part nearest to the ocean. True to its name, this area is prone to being flooded in times when the river is carrying more water than usual. Marshlands are often found at the edges of a river. Freshwater from the river and saltwater from the ocean meet at the estuary. This is the part that includes the mouth of the river. Our detailed river diagram can be a helpful reference for your studies on earth science topics, and the hydrological cycle, in particular.