Crocodile Life Cycle Game

Online


Crocodile Life Cycle Game Online. Biology lesson for students from 2nd to 7th grades to learn the stages in the life cycle of a crocodile.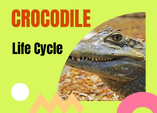 A crocodile's life cycle is a very interesting one. Unlike other animals that give birth to their young ones alive, crocodiles actually lay eggs like birds. These eggs are covered in the ground where they transform into young crocodiles. Many eggs do not make it to maturity because they are eaten by predators. Check out the game above to practice the stages in the life cycle of a crocodile. It is an interactive online drag and drop activity that can be used in the classroom or at home to teach children.
About crocodiles: The crocodile is a large reptile with overlapping ranges and distinct physical features. Its only diet consists of meat, and the different species have different diets. The crocodile can be up to 20 feet long, but the size of its body is smaller. They are known for their aggressive displays and defensive behavior. The crocodile is a very popular pet, especially among people in Florida, Texas, and Africa.
In some areas, crocodiles are becoming extinct. Human activity has negatively affected the crocodile's habitat. Settlement expansion, increased river traffic due to fishing and hunting, and tourism have harmed the crocodile population.
Adult crocodiles are safe to handle and use. Their natural predators are big cats that sometimes attack them. The juvenile crocodile, on the other hand, is vulnerable. It can be eaten by several species, and hunting and habitat loss affect their population. Many animals, including humans, may consume the crocodile's eggs.
A common misconception is that crocodiles are dangerous because they can bite through a leg or arm. In reality, a crocodile's jaws are remarkably weak, and they can only open their mouth. Because of this weakness, a crocodile can be stabbed with a rubber band, and their teeth can't stand up to that kind of pressure.
While crocodiles are not a threat to humans, they can be dangerous if they feel threatened. They have been known to attack humans and other animals, and many have died as a result. The crocodile is not the only animal that is dangerous. There are other animals that are more harmful to us than a crocodile. Crocodiles have been known to kill people who are trying to get their food.
The crocodile has many different sounds. The crocodile's distress call is a high-pitched, cough-like sound. Its threat call is a high-pitched, hissing noise. The crocodile's threat call can be heard by anyone, and it can also be used to signal invaders. They are extremely dangerous, but they are not a threat to humans.
Unlike many other species of animals, crocodiles are highly intelligent. They can learn to identify patterns in the behavior of their prey. They also use sticks as a bait to lure their prey. They catch birds when they come in for the sticks. They only use sticks as bait during the spring nesting season, and the demand for sticks is high in the spring and summer. This enables them to detect prey and avoid predators.