Windmill Science Project for Kids

You may have learned about renewable resources and making energy out of things like water power and wind power. Well, a windmill is a machine that is able to convert wind into energy by rotation. The windmill's rotation usually powers a generator or motor that makes electricity or moves objects. Wind power has been used and harnessed since 1st century Greece, and 7th century Persia actually used wind wheels. Wind power has been used to move things up and down, namely lifting water out of the ground, and to power machines to let them crush up grain and food. It's also recently been used to generate electricity.
A windmill is a wheel-and-axle machine. This means the wheel can move freely on the axis and it is using energy from the wind to move itself. The wind catches the shapes and moves it without the windmill having to be powered by electricity.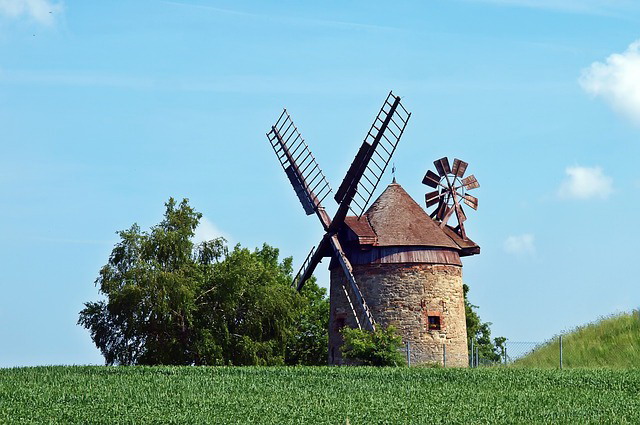 Question
Which windmill will be the most reliable and which one will be a better producer?
Materials
Cardstock
Construction paper
Printer paper
String
Tape
Plastic straws
Paperclip
Glue
Wooden skewers
Hole punch
Scissors
Marker or pen
Procedure
Use your scissors to cut out a square from each kind of paper.
Draw an X from corner to corner on each square.
Take your hole punch and make a hole in the center of the X so you can put a straw through it.
Cut along the X's lines, but leave about a half inch from the hole in the middle.
Fold each corner down to where you stopped cutting and glue it into place. You now have sails.
Place a straw through the hole you made in the center of each windmill. This is the axis.
Place a wooden skewer through the straw, now it can rotate.
Tape the end of a piece of string towards the end of the straw. Then, tie or tape the other end of the string to a paperclip.
Hold onto the ends of the wooden skewer, now blow on the sails. Which windmills moved the most? Why do you think this happened?
Results
As the windmill moves, the string will wind around the straw, lifting the paper clip. You will see the best results from the cardstock because it is more durable. The printer paper will have very weak sales because it is made of flimsy material. Science fair project for 3rd, 4th, 5th, 6th grade students.
Science practice for kids