The Process of Rust Formation: Rust Chemistry

What do you think of when you see or hear "chemical reaction"? You probably think of people in white lab coats pouring brightly colored liquids into other liquids and something exploding, or the old volcano experiment made out of baking soda and vinegar. The last thing you'd probably think of is the formation of rust, but the formation of rust actually is a chemical reaction.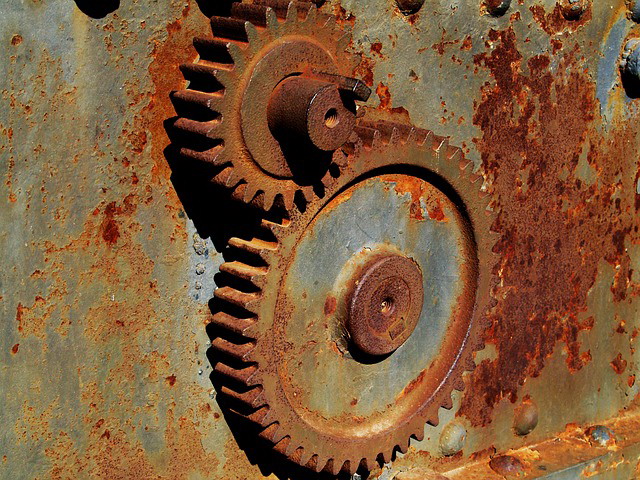 What Is a Chemical Reaction?
A chemical reaction is something that happens when at least one substance is turned into something else. Think back to the volcano experiment, baking soda and vinegar went in, and carbon dioxide gas emerged instead. So, the baking soda and vinegar were the start or the reactants, and the end result, the carbon dioxide gas, is the product.
When rust is forming, the chemical reaction is called corrosion. The reactants are iron, water, and oxygen. The product is hydrated iron oxide, or rust. Now, you'll learn what has to happen for rust to form, or what keeps it from forming.
Question
What can cause iron to rust?
Materials
Labels or tape
Tablespoon
Teaspoon
4 small containers or jars with lids (must be dry)
Iron filings
Bottle of water, distilled works best
Vegetable oil
Calcium chlorine (you can get this at a pool store)
Ruler
Vinegar
Procedure
Label the containers as: Jar 1 – Control (Water and Oxygen); Jar 2 – No Water; Jar 3 – No Oxygen; Jar 4 – Water, Oxygen, Vinegar.
Start with Jar 1. Add a tablespoon of iron filings, then poor water in until the iron filings are completely covered. Leave the lid off.
Move to Jar 2. Add a tablespoon of iron filings, then a teaspoon of calcium chloride. This will remove the water vapor. Put the lid on tightly.
Move to Jar 3. Add a tablespoon of iron filings, then add vegetable oil to cover the iron filings with a ½ inch layer. Then pour water in until there is a one-inch layer. Where does the oil go? Then put the lid on tightly.
Move to Jar 4. Add a tablespoon of iron filings, then add enough water to make sure the iron filings are completely covered. Add one tablespoon of vinegar and leave the lid off.
Move all of the jars to an area where they won't be disturbed, keep an eye on them until at least one has rust growth.
Results
You should see results in 12 to 24 hours. Jar 1 and Jar 4 will have some rust, Jar 2 and Jar 3 will not. Jar 4 will probably have more rust than Jar 1 does. Science fair project for 3rd, 4th, 5th, 6th grade students.
Science practice for kids