Famous African American Inventors Game Quiz Online
This page features a famous African and American Inventors Game Quiz Online. It is an exercise for students studying science in 3rd, 4th, 5th, 6th to 8th grades. Students will learn about famous personalities who invented different things from Africa and America. Remember to learn more by readding the article below.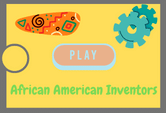 African American Inventors - Brief Summary
Many African Americans deserve to be recognized for their countless contributions to science – from being at the forefront of modern medicine, physics, chemistry and other fields of science, to developing everyday bounties like new types of food or easier ways to do household errands.
You may not know this, but there were many African American inventors, many of whom were forgotten. There were many inventions that we use every day, and some of these Black inventors gained recognition for their work, while others went virtually unnoticed and were lost to history. These Black inventors are important to our society because they created products that we need every day. Here is a list of some of the most popular inventions made by Blacks.
There are many fascinating stories about Black "Frenchmen" inventors. Norbert Rillieux, for example, was a highly sought-after chemist and engineer in Louisiana. As an African American, his mixed-race and intellectual bent made him an excellent choice to be a part of the burgeoning chemistry and engineering community. Rillieux remained active in his field until his death on October 8, 1894.
African American inventor John P. Parker was the founder of a foundry and a leader in the Civil War. During the day, he worked in the foundry, helping slaves cross the Ohio River. In the evening, he helped free runaway slaves and educate them. In addition to his inventions, Parker was also a leader in social reforms. As an African American, Parker faced discrimination and was an ally to many.
The home security system she invented in 1966 is still used today. Her invention was an evolution of a security system that had been around for decades. She had included four peepholes, a sliding camera, two-way microphones, and remote control that would unlock the door. In addition to protecting her home, the security system was used to alert the police or security in case of an emergency. Today, this security system is widely used in homes, offices, and apartment complexes.
When it comes to advancing technology, African Americans have played a pivotal role. Whether it was saving lives, making life easier, or changing history, they have played key roles in progress. Here are some examples of underappreciated or forgotten African American inventors. They were important in making the world a better place, but often go unnoticed. Sarah Boone, African American inventor, is one of those people.
Elijah J. McCoy was one of the most well-known Black inventors of the 19th century. Born in Colchester, Canada, McCoy was one of twelve children of runaway slaves. His parents sent him to Scotland to study mechanical engineering because such training was unavailable to Blacks in the United States. McCoy then returned to the United States and took a job as a locomotive fireman for the Michigan Central Railroad. His job included shoveling coal into the engine and applying oil to moving parts of the machine.
The African-American inventor Mary Kenner died on January 13, 2006. Though she wasn't particularly well-known for her inventions, her achievements paved the way for many other black women to pursue their dreams as inventors. Her work earned her five U.S. patents, more than any other African-American woman. While she did not receive any formal recognition for her achievements, her innovations are still in use today. In fact, the United States government has issued five patents to women.
If you are unfamiliar with the name Marian Croak, you may be surprised to learn that she's an African American inventor. Croak was born in Pennsylvania in 1955 and has made many contributions to the world. She credits her father for encouraging her to pursue a career in science, building a chemistry lab in their home. She then went on to earn a Ph.D. in social psychology at the University of Southern California and an undergraduate degree from Princeton University. She began working at Bell Labs in 1982.